How to Select the Correct Cutting Tips For Your Oxygen Acetylene Torch
Whether you are buying your first cutting torch or replacing your current one, there are a few things you need to consider in order to get the best one for your project. One being the tip you choose.
While the selection process may seem daunting there are only 4 main things to consider:
1. Seat Type
2. Metal Thickness
3. Application
4. Fuel-gas
Keep reading to learn more about what goes into these 4 steps and get resources to help your cuts.
Practical. Powerful. Portable.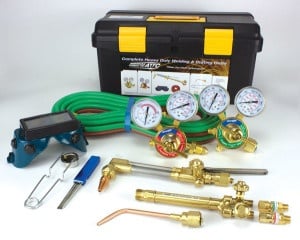 In recent years there's been much discussion about the value of plasma-arc and laser processes for cutting and welding, but Oxygen Acetylene, more commonly known as oxy-fuel, is still the most commonly used method worldwide.