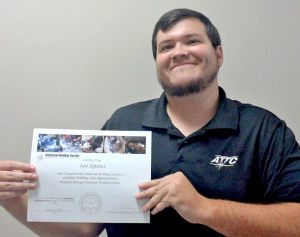 We're proud to announce that Ian Squires has completed requirements and passed the examination for the American Welding Society's CWSR Certificate (Certified Welding Sales Representative). This certificate is highly prized within our industry and is not easy to obtain because of the many hours of study required.
The A.W.S. program was developed to provide the knowledge base and expertise needed when advising customers. It encompasses many areas of welding equipment and variety of welding and cutting processes.
Congratulations Ian!