PHD™ AND PHDX™ PLASMA CUTTING TORCHES
Introducing our premier line of plasma cutting torches and cleancut consumables. Designed and engineered in-house by leading industry experts, our PHD™ and PHDX™ torches offer unmatched cutting capabilities, with less than 2º bevel and minimal dross. Our torches provide an upgrade to any plants' current operating system by improving the lifespan and consistency of its parts, leading to significantly less downtime and maximized output.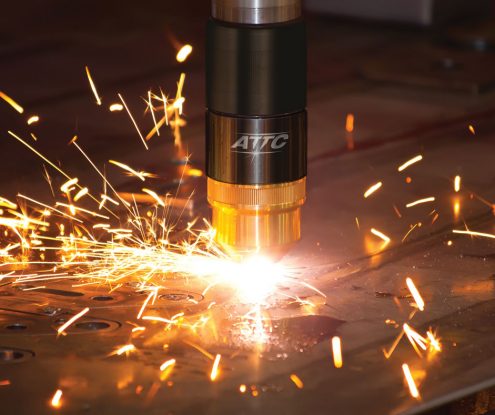 A Solution to the "Dross" Dilemma
Reduce the excess buildup of hardened metal on your cut to avoid costly setbacks
Less than 2º bevel
Make bolt-ready cuts with the lowest degree of bevel possible.
Heat Resistance
Improved cooling channels extend the life of your consumables.
Faster Cuts & Improved Bevel
Enjoy the best of both worlds with an industry-leading less than 2º bevel, allowing for near-perfect precision at top cutting speed. You can say goodbye to excess dross and slag and say hello to faster, cleaner cuts, with our PHD™ & PHDX™ plasma cutting torches.
Small Product, Huge Savings
These torches may be small but they pack a punch when it comes to your bottom line. PHD™/PHDX™ features, including minimal dross and extreme heat resistance, lead to a significant decrease in consumable replacement in automated plasma cutting systems. Users have reported increased operational efficiency and an improvement in their bottom line by 25% or more! Curious about the impact this technology could have at your plant? We offer a free ROI evaluation to any plasma-cutting plant who is interested in swapping to these more durable, high-performance torches.
Your Torch Deserves Top-Notch Consumables
Our CleanCut™ consumables are the technology of choice for PHD™/PHDX™ torches. CleanCut™ Consumables when paired with our PHD™/PHDX™ torches, change the industry of plasma cutting by reducing plasma arc turbulence with a high-velocity configuration, stabilizing and accelerating the gas column and producing ultra-smooth cuts. Get ready to save countless hours of manual inefficiencies and significantly improve output with this dynamic duo.
Explore Our Other Products
Our Strict Consumable Standard
Our consumables meet rigid standards including spectroscopic verification of raw materials and micro vision-inspection of all critical dimensions. These measurement systems are capable of detecting variances  as small as .0005 inches.
Ask About our
Torch Replacement Conversion Program.
Ready to increase the lifetime of your consumables and the quality of your cuts (or welds) by switching to American Torch Tip? We are so sure you will love our products that we will replace all of your torches – for free – with lifetime warranties when you become a regular customer. Reach out to learn more.